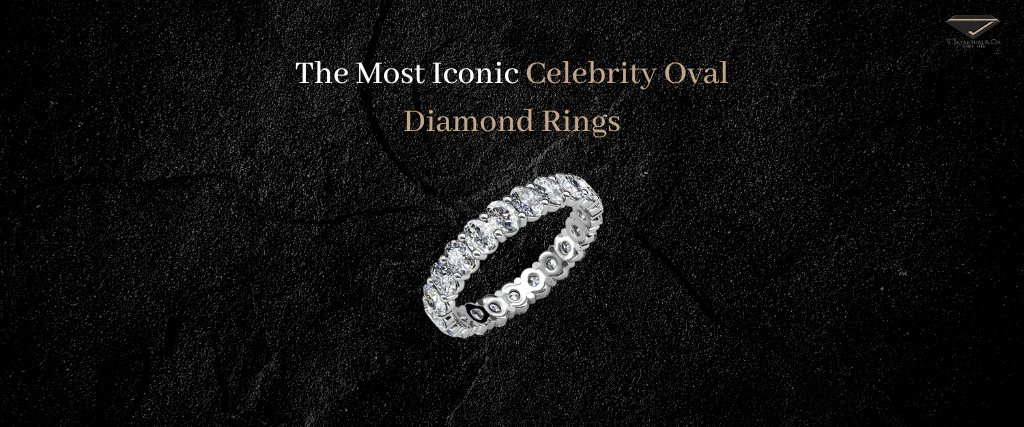 The extended form of a marquise and the brilliance of a round brilliant cut are combined in oval-cut diamonds. Oval-cut diamonds are a contemporary fusion of various exquisite forms, created in the 1950s. These are our top picks for oval-cut diamonds seen by famous people.
Celebrity Oval Diamond Rings:
1) Blake Lively: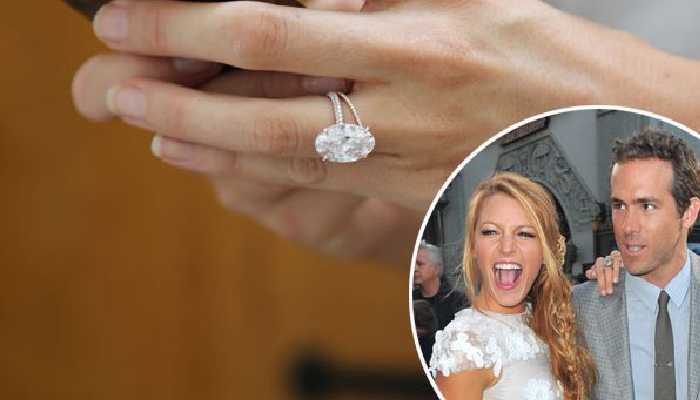 Our favorite celebrity couple, Blake and Ryan's relationship is full of fun and laughter, so it makes sense that Blake's engagement ring is just as sparkling and full of life.
Blake Lively received her iconic oval-cut diamond engagement ring when Ryan Reynolds proposed. The ring features a stunning, approximately 12-carat oval diamond set on a rose gold band. The choice of an oval cut provides a classic and timeless look with a modern twist. Blake's engagement ring is perfection in diamond form and we seriously can't get enough.
The oval shape is known for its elongated appearance, making fingers appear more slender and elegant. This particular ring showcases the beauty of simplicity and has become a symbol of their love and commitment.
2) Hailey Baldwin (Bieber):
Justin Bieber made sure that there would be one less lonely girl by asking Hailey to marry him.
Justin Bieber proposed to Hailey Baldwin with a massive oval-cut diamond ring. The ring's center stone is an elongated oval diamond, estimated to be around 10 carats, set on a simple gold band. The diamond is known for its impressive size and brilliant sparkle.
Hailey's celebrity oval diamond rings represent the idea that sometimes, less is more. The ring is a statement of their love and has undoubtedly become a conversation piece.
Also Read: Setting the Stage: Discover the Perfect Oval Diamond Ring Setting
3) Beyoncé: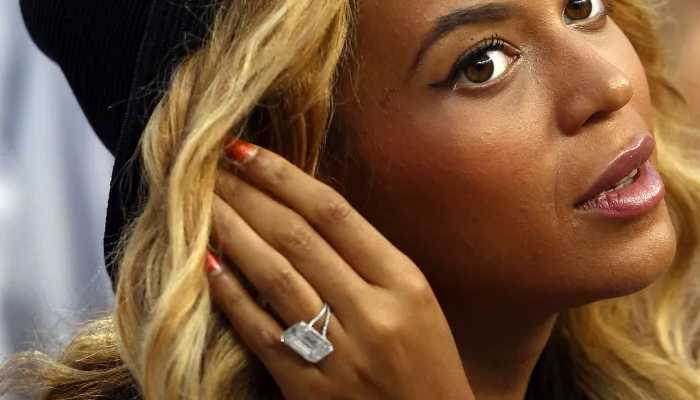 Beyoncé's engagement ring is one of the most iconic in the world. Jay-Z proposed with a massive 18-carat oval-cut diamond. The diamond's size and exceptional quality are the ring's defining features, making it a symbol of luxury and extravagance.
Beyoncé's ring is not just a piece of jewelry; it's a testament to their love and success. It's often seen as a representation of power and success in the entertainment industry.
4) Ariana Grande:
Dalton Gomez proposed to Ariana Grande with a unique oval-cut diamond ring. The ring features an elongated oval diamond with a pearl and a diamond halo. The pearl adds a distinctive touch, making it a one-of-a-kind piece.
Ariana's engagement ring showcases her individuality and style. It's a symbol of her love story and her personality, blending classic elegance with a hint of uniqueness.
5) Katie Holmes: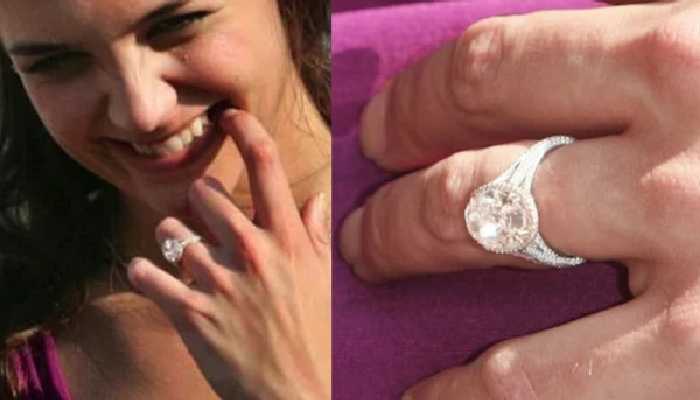 Tom Cruise proposed to Katie Holmes with a classic oval-cut diamond ring. The ring is a symbol of their engagement and their time together. The simplicity and timelessness of the design are key elements of its charm.
Katie's ring is reminiscent of a bygone era, and it captures the essence of traditional romance and commitment.
6) Reese Witherspoon:
Reese Witherspoon received a 4-carat oval-cut diamond engagement ring when Jim Toth proposed to her. The ring is set on a simple, diamond-studded band, which adds a touch of sophistication and elegance to the design.
Reese's ring is a symbol of their love story, representing their commitment to each other. The oval diamond's classic appeal is complemented by the delicate diamond accents on the band.
Also Read: The Ultimate Oval Diamond Buying Guide: Expert Tips and Advice
7) Kate Middleton: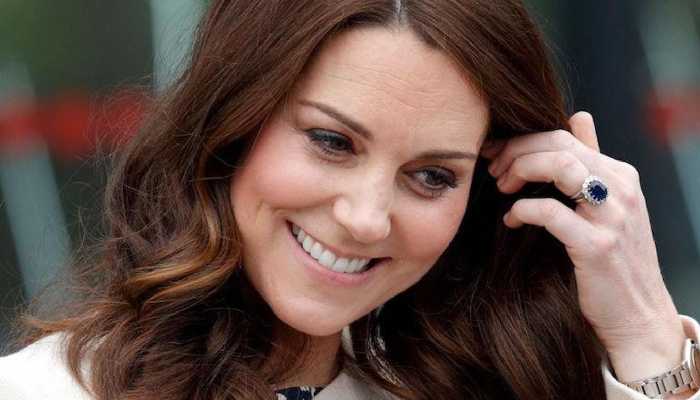 Although not a celebrity in the traditional sense, Kate Middleton's engagement ring is iconic. Prince William proposed to her with a beautiful oval sapphire surrounded by a halo of diamonds. The ring once belonged to Princess Diana, adding historical significance.
Kate's ring is a symbol of royalty and tradition. It carries a legacy and represents a new chapter in the British monarchy.
8) Miranda Kerr:
Evan Spiegel proposed to Miranda Kerr with a classic oval-cut diamond engagement ring. The ring's simplicity and elegance reflect the supermodel's style and sophistication.
Miranda's ring symbolizes her love and commitment to Evan, as well as her enduring presence in the fashion and entertainment industry.
9) Sophie Turner: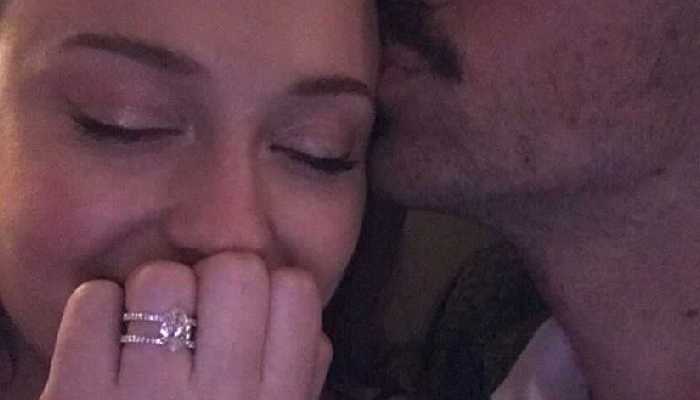 Joe Jonas proposed to Sophie Turner with a double-banded unique celebrity engagement rings. The double band adds a contemporary and modern twist to the classic celebrity oval diamond rings.
Sophie's ring is symbolic of her love story with Joe. The double band represents the union of two people and their unique connection.
10) Gwyneth Paltrow:
Brad Falchuk proposed to Gwyneth Paltrow with an exquisite oval-cut diamond engagement ring featuring a solitaire setting. The ring is a beautiful example of timeless elegance.
Gwyneth's ring symbolizes their commitment and love. The oval diamond's classic style makes it an enduring choice for an engagement ring.
Also Read: Everything You Need to Know About Oval Diamonds for Engagement Rings
Princess Diana's Engagement Ring
This ring is as iconic as the person who chose it for her engagement. The ring was chosen by the Princess herself out of Garrard's catalog instead of continuing the tradition of getting a custom-made jewel. It features a 12-carat royal blue oval sapphire surrounded by 14 diamonds set on an 18k white gold band.
The prong setting enables the halo to produce an oval setting in place of a snowflake setting. This celebrity engagement ring's price is around 300.000 to 400,000 dollars.
Lana Condor's Oval-Cut Diamond Ring
You will be overjoyed to hear that Lana Condor, your favorite heroine from Netflix's smash movie To All the Boys I've Loved Before, is now engaged. Lana announced her engagement to her boyfriend, Anthony De La Torre, on Instagram. Their wow-worthy engagement photoshoot (two cute pooches included) showed off Lana's gorgeous oval-cut sparkler.
A 3-carat oval-cut diamond set in yellow gold is said to be the focal point of the ring, with smaller diamonds set on the shank.
Inspired by the magic of this classic-meets-modern oval-cut diamond sparkler? Then, we've got just the ring that'll make you go ooh and aah!
Amber Rose
Rapper Wiz Khalifa and actress Amber Rose got married in 2013, but they broke up three years later. Amber's engagement ring included a 10-carat oval cut diamond in a clean, traditional solitaire shape. It's a gorgeous diamond that doesn't need any decoration to shine.
Jennifer Anniston
We had to include Jennifer Aniston's engagement ring even though it isn't exactly the modern oval cut. It's just too beautiful to ignore! A 10-carat antique rose cut, which sits flat to the finger, this shape has no pavilion.
Congratulations to Justin for recognizing what would be most memorable to his A-list fiancé at the time—rose-cut engagement rings are very uncommon these days. The couple was married for three years before calling it quits.
Jasmine Tookes
Discovered that Ritani is the source of model Jasmine Tookes' engagement ring. The stunning solitaire Celebrity oval engagement ring gold features a 7-carat oval-cut diamond. Tookes became engaged to Juan David Borrero, a Snapchat executive, in 2020, and the two tied the knot in Ecuador in 2021. Their nuptial ceremony was simply amazing.
Kourtney Kardashian
Travis Barker planned a dreamy beachside proposal for Kourtney Kardashian, where he showed her an engagement ring with an oval-cut diamond believed to weigh between 10 and 12 carats. The dreamlike ring has a delicate pavé diamond band and a concealed halo. The couple supposedly intends to tie the knot in 2022 spring!
Simone Biles
The world-renowned Olympic gymnast became engaged to Houston Texans safety Jonathan Owens on Valentine's Day 2022. The extremely high-quality oval-cut center stone is a 3-carat, F color, VVS2 clarity diamond according to the jeweler, ZoFrost, who crafted it. Three-row pavé, which lines diamonds on the top and sides of the ring to create sparkle from every angle, is the setting that Owens chose.
These iconic celebrity oval diamond rings represent a range of styles and tastes, from classic and traditional to unique and modern. They not only symbolize love and commitment but also serve as symbols of the individuality and personal style of the celebrities who wear them. Each of these rings has a unique story, making them iconic in their own right. If you're looking to find your dream oval diamond for an engagement ring.
At V. Jayantilal & co., we create tailor-made celebrity oval diamond rings. This means that you can get inspired by any of these celebrity oval engagement rings and put your personal touch with our high-quality oval diamond.
Our Professionals are available to assist you at every turn. Get in touch with our expert today!