Everything You Need to Know About Oval Diamonds for Engagement Rings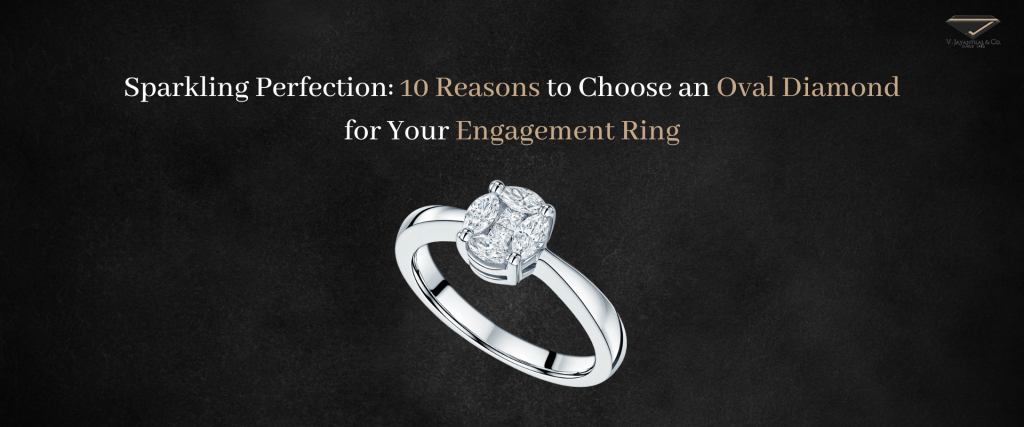 Every couple of years, a new engagement ring form gains popularity, which causes costs to increase owing to great demand. For a number of years, the title has belonged to the oval-shaped diamond engagement ring. In the realm of fine jewellery, the oval ring serves as a steady friend. oval diamond is the second most popular diamond cut after round diamond, it has a mark on day one and continues to be loved by fashion magazines and engagement ring trendsetters. The most extraordinary aspect of this traditional diamond cut is that it flatters every finger type and carat.
So, diamond oval rings are for you if you desire a large, magnificent diamond ring with exceptional brilliance and wonderful glitter! Here is the benefit of buying oval diamond engagement ring:
You will get more value for your buck with an oval diamond engagement ring.
Oval diamonds are very similar to round diamonds in terms of brilliance and sparkle. However, an oval has a naturally elongated shape that appears more prominently on the finger. Despite having identical carat weights, the oval diamond will take up more space on the ring finger due to its elongated shape. Oval diamonds may be the most costly form on the market right now, but they're a safe and wise approach to buying oval diamond, considering you'll receive the most for your money.
One thing to keep in mind with an oval diamond is that the color and clarity will stand out more the larger the center stone. Jewellers recommend staying between D and F on the color scale if the oval is 1.00 ct. and up. If you're searching for an eye-clean oval diamond of 1.5 ct and higher, it is advised to stick with VS1-VS2 clarity.
The oval shape diamond has a unique bow-tie formation.
The apparent bow-tie configuration within an oval-cut diamond distinguishes it from other diamond forms. The oval diamond's cut prevents light from bouncing back and forth in the centre, which results in the bow tie effect. The bow tie is one of the numerous characteristics of an oval diamond that make it attractive and unique. However, in order to maintain the oval diamond's uniqueness, you must be attentive while selecting the setting. Even though an oval-cut diamond combines well with most settings, the inappropriate setting can wind up overpowering and outshining the centre stone. An oval diamond looks lovely in a halo setting, a prong setting, or a bezel setting.
Budget-friendly
Oval-cut diamonds are more unique than round-cut ones and are surprisingly cheaper. The cost climbs by a few thousand dollars every time you raise the carat size. An oval diamond cut gives the illusion of a larger cut stone—without the added cost. If you want to buy engagement ring for woman use the extra money to plan your ideal honeymoon. In actuality, the diamond's elongated oval form deceives the eye into perceiving more. Therefore, an oval diamond ring appears much bigger than a round diamond that weighs the same.
The oval cut naturally elongates the finger.
Everyone aspires to have long, graceful fingers, but some of us are just not so blessed. The oval shape of the diamond might give the appearance of longer, slimmer fingers on women if you're trying to trim down. When you are wearing an oval-cut diamond, this is not a problem. The curve of the ring organically elongates your fingers, giving you that desired gracefulness. Before making a decision, always try various stone shapes to make sure the ring's form suits your finger.
Oval diamonds pair well with most settings.
An oval-shaped diamond is versatile in that it pairs well with most settings. choosing the right setting is almost as crucial as picking the center stone. The improper setting may overwhelm and outshine the central stone. Here are some examples of previous oval diamond settings that past clients of Diamond Mansion have opted for. Some popular settings for oval diamonds include the solitaire, halo, and three-stone settings. The solitaire setting is a classic and timeless choice, while the halo setting adds extra sparkle and emphasizes the oval shape.
Unique yet traditional
It might be difficult to choose the ideal diamond because they come in a variety of cuts, styles, and sizes. The stunning traditional cuts of round and princess diamonds are very well-liked. In fact, they are a touch too famous, causing them to lose their distinctiveness. An oval-cut diamond, on the other hand, is a spectacularly unique stone that will undoubtedly draw people's attention. For those seeking some diversity, the standard oval diamond shape is a timeless classic and elegant option.
Endless design options
When it comes to oval engagement ring designs, you can employ a concealed halo, a three-stone setting, or encircle your oval stone with hundreds of accent diamonds. If you want to make your love gift more unique, choose an oval diamond cut ring. If your perfect engagement ring only exists in your mind, contact us today so we can make it a reality.
A popular choice for celebrities
Celebrities are known for living lavish lifestyles. Proposals and engagement rings are no exception. Oval diamonds gained appeal, according to some, when Blake Lively's longtime husband, Ryan Reynolds, proposed to her with a 12-carat pink oval diamond engagement ring. The ring, which Lorraine Schwartz created, is valued at $2 million.
Doesn't catch or scratch
Any diamond with sharp corners is likely to catch on surfaces while you are performing routine tasks, increasing the risk of breaking the prongs that hold the stone in place. A square-cut diamond's prongs are far more likely to break than those of an oval diamond. Oval diamonds are great practical wear for every day because they have no sharp corners.
An oval cut is not prone to damage.
The oval engagement ring is more exotic than its round cut, but it still has many of the same advantages as a round stone, including durability. Because there are no sharp edges, an oval cut is difficult to chip, and it's almost impossible when you choose a durable stone, like a diamond.
The most popular diamond form on the market right now is the oval, with round and cushion diamonds coming in second and third, respectively. Everyone has different styles and tastes, especially when it comes to engagement rings and other jewellery. There is no right or wrong answer to which shape to choose. If you can't decide on just one, ask your jeweller how you can incorporate other shapes of diamonds into your design. However, a diamond oval engagement ring unquestionably gives your partner's hand classic shine.
At V. Jayantilal & Co., we design and customizes the engagement ring of your dreams from scratch. Regardless of the cut, size, and shape, we can help you find an engagement ring that is just right for you! Head over to our website to speak with our experienced ring specialists.