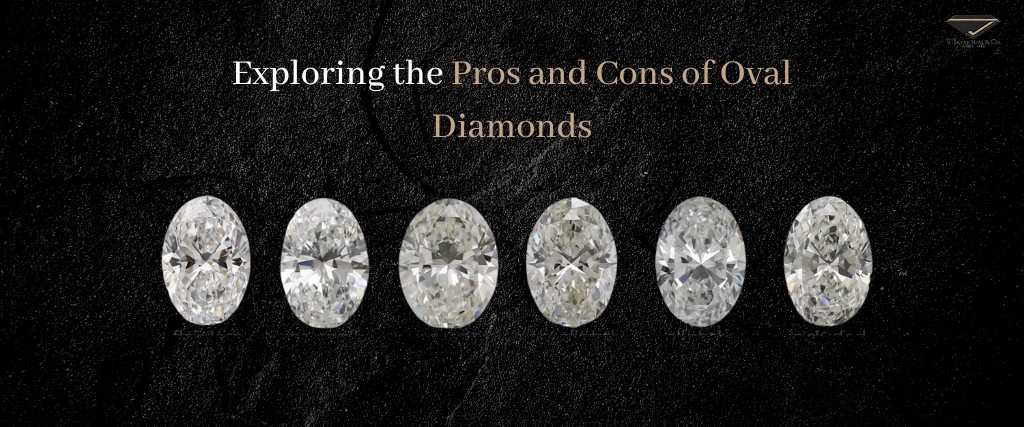 Nothing makes an impression like a diamond; other jewels might be impressive, but there is something unique about a diamond that is classy and brilliant.
People continue to be drawn to diamonds of various clarity, color, carats, and cuts because of this indescribable quality. This includes diamonds with oval cuts and symmetrical gems that sparkle and are charming. Oval-cut diamonds are stylish and sophisticated. 
At V. Jayantilal & Co., we offer a huge range of GIA-certified diamonds to all our clients in need, including a wide selection of oval-cut options.
Before adding one to your anniversary necklace or engagement ring, what exactly should you think about? This guide will walk you through the basics and explore the pros and cons of oval diamonds to ensure your diamond is one you'll treasure forever.  
What is an Oval Diamond?
The oval-cut diamond was created in the early 1960's by Lazare Kaplan. Despite having a more elongated shape and some similarities to the round diamond, the oval can appear larger than its actual carat weight.
The elongation of an oval-shaped diamond is what allows an oval to appear larger than its actual weight and it's the reason why many lean towards oval-cut diamond engagement rings. 
Pros and Cons of Oval Diamond
Pros of Oval Diamond
There are many advantages of oval shaping diamonds, here are the main benefits:
More Affordable
You may get a larger diamond for your budget since an oval-cut diamond will be less expensive than a round-cut diamond same carat and clarity. Up to 30% less money might be spent on an oval-cut diamond than on a round diamond.
If you like a setting with a large diamond, an oval-cut diamond is a fantastic cheap alternative since its larger surface area makes it appear larger than a round cut of the same size.
Also Read: Setting the Stage: Discover the Perfect Oval Diamond Ring Setting
More Sparkle
A diamond's sparkle and brilliance are determined by the way it is cut, and the oval cut is one of the brightest cuts of all. When you choose a ring with an oval-cut center stone, you are guaranteed a brilliant sparkle on your finger.
Slimming Effect on Fingers
If you are searching for a slimming effect, the oval form of the diamond can make a woman's fingers seem longer and slimmer. Always try different-shaped stones before making your pick to ensure the form of your ring matches your finger.
Doesn't Catch or Scratch
There are no sharp corners on an oval cut diamond, so it is great practical wear for every day. Any diamond with angular edges is likely to snag on objects as you go about your daily business, increasing the chance that the prongs holding the stone in place will shatter. The prongs of an oval diamond are much less prone to shatter than those of a square-cut diamond.
Your Choice of Settings
Not only is the oval-cut diamond a more original choice in itself, but you can also choose from a variety of settings. You can choose between a 4-prong, 6-prong, or bezel setting for an oval-cut stone. Due to the oval shape of the diamond's design, which makes it less prone to catch, a four-prong setting can be sufficient to keep the diamond secure.
Although a smaller diamond may be overshadowed by the additional metal, the six-prong setting does give the added protection of a secure grip. Alternately, a bezel setting is a strip of metal encircling the stone and holding it securely in place.
A Larger-Looking Diamond
Oval-cut diamonds are a fantastic deal since they produce a stone that appears bigger than it actually is. This is so that we can trace the longest lines of an oval with our eyes and measure it from top to bottom.
In terms of actual size, an oval diamond is cut shallower than a round diamond, which means that it has more surface area, sometimes up to 10% than a round diamond.
A Brilliant-Cut
The pros and cons of oval diamond is a fantastic choice if you're looking for a brilliant diamond because of its famed brightness and exceptional light performance. The oval cuts' faceting structure and alignment, which improves light contact, are the cause of this. Similar to the round brilliant, the oval cut features 58 carefully placed facets all over its surface.
A Unique Shape
The oval cut is a great choice if you're looking for a traditional diamond with a distinctive twist. The oval cut has a conventionally round appearance, but its elongated shape is unique.
Elongates Your Fingers
Due to the oval cut's lengthier form, which gives the appearance of longer fingers, the wearer's fingers tend to seem thin and long. For brides with short or wide fingers, the oval is an excellent option when set vertically.
Good at hiding color and flaws
One of the benefits of oval shape diamond is its ability to hide flaws, thanks to its brilliant facets. With the oval cut, you can go lower on the clarity and color scales than you would be able to with the majority of other diamond cuts because of its forgiving nature.
We advise lowering the value for clarity to SI1 or SI2 for the best result, and for color, try lowering the value to H or even I. Remember not to go based on grading alone, but check out each diamond individually before you buy an oval diamond.
Also Read: The Ultimate Oval Diamond Buying Guide: Expert Tips and Advice
No sharp corners
The absence of sharp corners that may catch on things or cause harm is one of the finest features of rounded diamond shapes. Only the oval, cushion, and round diamond forms are included in this group.
This can seem like a minor point, but it has an impact on the diamond's overall longevity and the available setting possibilities. It is simpler to care for and keep an oval diamond since it needs less protection than, say a princess, marquise, or a pear.
Versatile with many design options
The oval diamond comes in a few distinct configurations, depending on the length-to-width ratio that you pick. You now have more options for looks and versatility. While the most frequent length-to-width ratio for oval diamonds is about 1.45, this figure may range from 1.33 (a broader oval) to 1.66 (a narrower oval). The most conventional oval cuts fall within this range, whereas those that fall outside of it result in thicker and squatter oval, respectively.
Because of the oval shape, you can also choose different orientations, from diagonal to horizontal placement of the diamond. These options are not available with a round or princess cut because these shapes are the same from all angles.
Cons of Oval Diamond
Despite the oval cut diamond's many benefits, there are a few significant drawbacks to be aware of These include:
Bow tie effect
When the cut of the stone prevents light from reflecting back from the center, bowties form. This frequently results from mismatched facets. Now, a little bit of bow tie can enhance the elegance and definition of your diamond's appearance, but it shouldn't be overdone. All oval cuts have some degree of bowtie, but if it's the first thing you notice when you look at your diamond, it's best to opt for a different stone.
Unfortunately, since exotic cuts like oval cuts are not graded by diamond grading laboratories, the only method to determine whether your oval diamond has a good cut is to carefully examine it and see how it responds to light. Since bowties are not included in grading reports, it is important to individually inspect each pros and cons of oval diamond before choosing one.
Shows flaws
The oval cut does tend to highlight any flaws, blemishes, and inclusions within the diamond, so you will need a clarity of VS1 or above and a color of G or above to make the most of your purchase. The good news is that, as oval-cut diamond rings are cheaper than comparable round cuts, you can afford to invest in higher clarity and color.
Symmetry can be off
If the symmetry of the oval cut isn't perfect, the diamond can look slightly wonky or off-center. Look for mirror images with the same sides. If the stone has been cut inexpertly, it'll show. This is why it's not easy to find a beautifully cut oval diamond and you'll have to spend some time searching before you find the right one.
Conclusion
Overall, the oval cut diamond is an excellent option if you want a larger high-quality stone with plenty of extra sparkle at an affordable price. Take care to assess the color and clarity of your chosen diamond, and you will have a unique spectacular diamond ring. Ultimately, choose a diamond you love. An oval-cut diamond may be worth the extra money if its long form and sparkling pattern make you swoon. At V. Jayantilal & co., we ensure that each of our diamond alternatives outshines in terms of color and clarity.