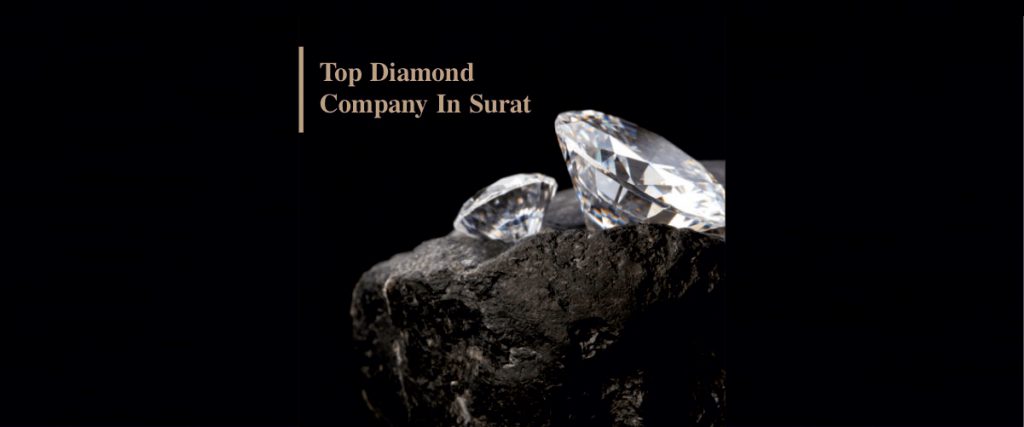 Surat is one of the largest and most productive industrial hubs in Western India, located at the mouth of the Tapti river in the Indian state of Gujarat. Surat, second-largest city in the state, but boasts one of the nation's fastest-growing economies. It is the largest centre for diamond cutting and polishing in India. In summary, here is a quick rundown of Top Diamond Company in Surat, which more over contribute to the city's economy.
V.Jayantilal & Co.
 V.Jayantilal is among the Top Diamond Company in Surat, establishing benchmarks not just for the sheer scale of operation but also for product quality, precision, variety, technology integration, manufacturing, and broader social responsibility. 
Diamonds weighting 0.18 carats or more 10 carats are called refined. V. Jayantilal believes in the commitment of its team members to help the company grow and succeed in a culture connected with good energy, hence best company to buy diamond online.
Hari Krishna Diamonds
Hari Krishna Exports, a diamond manufacturing company, has earned a global reputation as the most trusted natural diamond exporter.
This is to clarify they provide a wide range of certified/non-certified cut polished natural diamonds, ranging in size from 0.30 to 5+ carats, in the round and more than 8 fancy shapes.
Hari Krishna Exports believes it is time to stay connected to its customers and community through digital mediums.
Shree Ram Krishna
Shree Ramakrishna (SRK) Exports, one of the globally trusted and respected firm in diamond industry from decades. Their expertise lies in producing a consistent supply of quality polished diamonds in all shapes and sizes. Shree Ramkrishna Exports' also is the sightholder of the Diamond Trading Company (DTC) and distribution arm of De Beers Group. Their manufacturing capabilities are among the best in the world.
Laxmi Diamonds
Laxmi Diamond established in 1986 by Laxmi Diamond Group, headquartered in Mumbai. It provides the diamond from rough to retail. Mr. Vasant Gajera is the driving force behind the growth of the company.
They are the sightholder of the Diamond Trading Company (DTC), the distribution arm of the De Beers Group. They have manufacturing company in Surat, Amerli equipped with high-tech machinery.
Dharmanandan Diamonds Private Limited
Dharmanandan Diamonds Pvt. Ltd., one of the largest diamond manufacturing companies with more than 25 years of rich experience, has adopted a set of core values, high ethical standards, and business principles to ensure that its business is free from any malpractice.
The Group has set up strategic marketing networks at major diamond centres like India, Hong Kong, Belgium, and the USA to cater to its customers worldwide. With consistent quality and reliability of product, Dharmanandan Diamonds delivers satisfactory and exceptional customer service.
The company offers a wide range of diamonds, sizing from 0.01 cents to 5.00 cents in D to Cape colour and IF to I3 clarity, in different shapes like round, princess, pear, marquise, oval, and other fancy shapes.
Asian Star Company
Asian Star is one of the well known international companies for diamonds. Infact, they are the biggest diamond merchant company in India, as a result they have an international presence in USA, Bangkok, Dubai, and Shanghai. The headquarters are located in Surat, Gujarat. They have a strong force of more than 1,600 skilled artisans and workers.
Gitanjali Group
Gitanjali Group was founded in 1966 in Surat, Gujarat. Today, this company is one of the leading brands of diamonds in India. This company has a total turnover of Rs. 13,000 Cr. Gitanjali Group is an internationally reputed and trustworthy company in diamond jewellery design and production.
It is a global lifestyle brand for its rough diamond sourcing, cutting, designing, polishing, distributing, and jewellery manufacturing in India and abroad.
Kiran Gems
The largest producer of natural diamonds is Kiran Gems. This company began operating in India in 1985. The company's founder was Vallabhbhai S. Patel. Their guiding principles are excellence and commitment to their work. The biggest producer of diamonds in the world is Kiran Gems Private Limited. They offer loose and certified diamonds all over the world. A Sightholder of the De Beers Group is Kiran Gems.
Kiran Gems is a well-known brand in India for its high standards of quality, variety, and quantity. However other than India, they have a deep presence in for example: USA, UAE, Hong Kong. For its outstanding performance, Kiran has received numerous awards throughout the history of the diamond industry. The company has more than 30,000 skilled workers, as a result annual turnover is roughly around Rs. 7,700 Cr.
Sanghavi Diamonds Manufacturing Private Limited
They have been one of the top companies in the world, manufacturing and distributing polished diamonds over the past 40 years.
During the last three decades, the Group has evolved from a traditional trading company to a fully integrated business house but extending its reach across the diamond supply chain from rough purchase to diamond polishing.
The Group has developed a strong foundation over the years that gives it the ability to overcome challenges.
Shairu Gems Diamonds Private Limited
This company was established in 1976, is a leading polished diamond supplier headquartered in Mumbai with manufacturing operations centrally located in the world's largest diamond cutting and polishing centre in Surat, India.
The company has over 2,000 employees working across a global footprint that covers the traditional markets of America and Europe, indeed the fastest growing regions of India and Far East Asia.
Shairu Gems Diamonds Pvt. Ltd. core strengths as a manufacturer can be summarised as Pipeline integrity resulting in enhanced consumer reassurance from rough to polished and consistent rough supply allowing long-term planning through long-lasting relationships with preeminent mining houses.


Therefore, these are some of the Top diamond company in surat. Keep reading our blogs for latest updates of diamond.