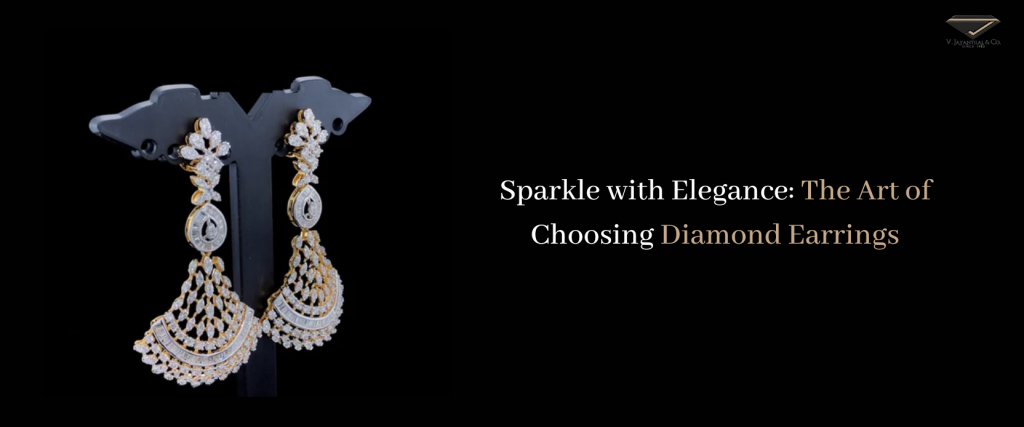 Diamond earrings have been more popular in mainstream fashion in recent years. Diamond earrings are the ideal gift for yourself or a surprise present for someone you care about, especially with the simple jewellery style and the stacked earrings trend. Before making any purchases, you must read our guide to buying diamond earrings. Diamond earrings are timeless and provide the ideal amount of sophistication to any ensemble. The beauty of diamond earrings is that they don't need the perfect dress or occasion. They stand on their merit, enhancing your appearance. So, if you're prepared to expand your collection with a few diamond earrings, you're in the right place.
Here is a complete guide for buying diamond earrings.
Setting Your Budget: How Much Should You Spend on Diamond Earrings?
Setting a budget that you are comfortable with is crucial when purchasing diamond earrings. To guarantee they are purchasing a high-quality pair that will be treasured and last a lifetime, some customers often put their budget in the thousands rather than the hundreds. Diamond earrings come in a range of prices. It depends totally on what you are willing to spend.
How to Find the Right Size and Shape for your Diamond Earrings?
The two most crucial elements to take into account are size and shape. Your face should be proportional to the size of the diamonds. If you have a small face, choose smaller diamonds, like the Opt for larger diamonds Earrings for those with a larger face.
The dazzling round cut is the most preferred option when it comes to shape since it sparkles the brightest. The stone's shape is entirely up to you. Consider alternative forms like the oval, marquise, or pear if you're seeking something distinctive. Princess-cut diamonds are equally popular, while round diamonds are more typical and conventional. Both of these forms offer the most incredible glitter and brightness. Oval and cushion-cut diamonds, on the other hand, are viewed as feminine with an antique flair. Asscher-cut and emerald-cut diamonds are quite geometric in design and also have a very fashionable vintage appearance right now. However, if you're looking for something more unique and special, consider a heart, marquise, or pear.
Exploring Different Diamond Earring Settings: Selecting the Perfect Style
Your style, the shape and cut of the stone you select, and the setting you pick will all influence the look of your diamond earrings. Consider the following diamond settings:
Four-Prong Setting: A four-prong diamond setting provides elegance and a timeless charm.
Three-Prong Martini Setting: To achieve a flush setting, three-prong settings are designed to properly and accurately fit the diamond.
Bezel Setting: This diamond earring setting creates a metal perimeter that completely encapsulates the diamond stud, giving it a more modern and uniform look.
Halo Setting: This adds more brilliance to the centre diamond because it reflects off of the smaller halo stones.
The Importance of Earring Backs: Comfort and Security
The earring back, which is hidden from view while the earrings are worn, is the most neglected component when purchasing diamond earrings. It's up to you to decide which backing would look best with your diamond earrings. Push-backs, friction-backs, and butterfly backs are the most popular types of backs. These are normally quite secure and glide on effortlessly. You may choose threaded or screw-back earrings if you want more stability to hold your earrings in place. Although they physically screw on for maximum security, they can be challenging to use and occasionally aren't as comfy as conventional backs.
Understanding the 4Cs: A Crash Course in Diamond Quality
Another important factor to consider when investing in a pair of diamond earrings is the quality. The universal method for determining a diamond's quality is known as the 4Cs Colour, clarity, cut, and carat weight. To achieve a flush setting, three-prong settings are designed to properly and accurately fit the diamond.
Let's take a crash course in the 4Cs of diamond quality :
Colour: The colour significantly affects the price. The most costly diamonds on the market are colourless. A very little yellow, green, pink, or even grey tint can be seen in diamonds.
Clarity: If you're buying an engagement ring rather than diamond stud earrings, clarity is perhaps more important. The higher the clarity, the fewer inclusions and imperfections there are. You'll be able to spend a little more money on the other Cs as a result. This determines how spotless a diamond is. Earth-mined natural diamonds form within the crust of the earth. These are called inclusions. A diamond that has the best clarity, or little-to-no inclusions, is very expensive
Cut: This is how a diamond is shaped or cut. Round-cut diamonds are the most expensive among the most popular cuts used for diamond earrings. The other common shapes include oval, princess, cushion, and teardrop. There are more unique cuts, such as ascher, emerald, and radiant, that are used in fancier jewellery designs. These are sold at higher prices.
Carat Weight: This is the weight of a diamond, and is referred to when discussing the size of a diamond. Because it seems bigger and weighs more when the carat size is higher. A diamond is more valuable the more carats it has. You can only comfortably wear a particular weight of diamond earrings.
They are an essential component of this buying guide for diamond earrings since you will come across them whenever you enquire about any item of diamond jewellery. In keeping with that, it's also important to keep in mind that it is concerning if someone offers to sell you diamond earrings but omits to mention any of the 4 C's.
Look for diamond Certificates
Make sure any diamond you intend to buy is certified before making any purchases. any is a pretty crucial component of any guide to buying diamond earrings and one you must remember. Diamond certification is provided by specific gemological laboratories from all around the world that confirm the authenticity of a diamond and measure its different qualities, such as the 4 C's (carat, cut, colour, and clarity).
Types of Diamond Earrings: Finding the Perfect Match for Your Style
You may go on and start thinking about the design as soon as you have a budget established for yourself. This includes the diamond cut, the ring setting, or if you want a specific style such as studs, hoops, or chandeliers. Based on their shape and size, there are four basic types of diamond earrings one must own. Each type of earring is charming and beautiful in its own way. Read along to find the perfect pair to suit your style.
Earring styles will depend entirely on your personal preference. Before you begin shopping for diamond earrings, it's a good idea to have one or two specific styles in mind as there are many to pick from. This facilitates (and expedites) your buying process.
Here is a simple tutorial on selecting the right type of diamond earrings to buy.
If you want something to wear casually, Diamond stud earrings are the ideal type of diamond earring for everyday use. You can wear them with everything from a T-shirt to a summer dress and even your everyday work attire, and they will never look overdone.
If you want something for special occasions, this is where you can be more adventurous with your diamond earrings. For dresses, suits, and printed gowns, the bigger types with more complex patterns are ideal, such as the chandelier, drop, dangle, and teardrop styles.
If you want something that makes a statement with your outfit, A basic ensemble will glitter more with striking earrings. These are your hoops, drops, and dangles.
If you want to add to your jewellery collection, This is where you can pick just what earrings your collection needs, for example, if you only have hoops or studs for your earrings, you may go for dangling, wire hook, or huggie hoop pieces.
Choosing the Right Metal Setting: Enhancing the Beauty of Your Diamonds
The metal setting of your diamond earrings is just as important as the diamonds themselves. The most popular metal settings for diamond earrings are yellow and white gold. The white gold setting is best for those who want a more sleek and contemporary look. For individuals who like a more conventional and classic style, yellow gold is the finest option. If you can extend your money, choose platinum for a more contemporary style because it is the most expensive option. But if you want a vintage look, you can get the Diamond Earrings in rose gold.
Now that you have all the know-how on shopping for new diamond earrings, it's time to shop! The best place to buy diamond earrings is at V. Jayantilal & Co., which is home to jewellery professionals who love helping patrons find amazing new pieces to add to their personal jewellery collections. With this ultimate guide, you'll be sure to find the perfect pair of diamond earrings to complete your look – all in one place.