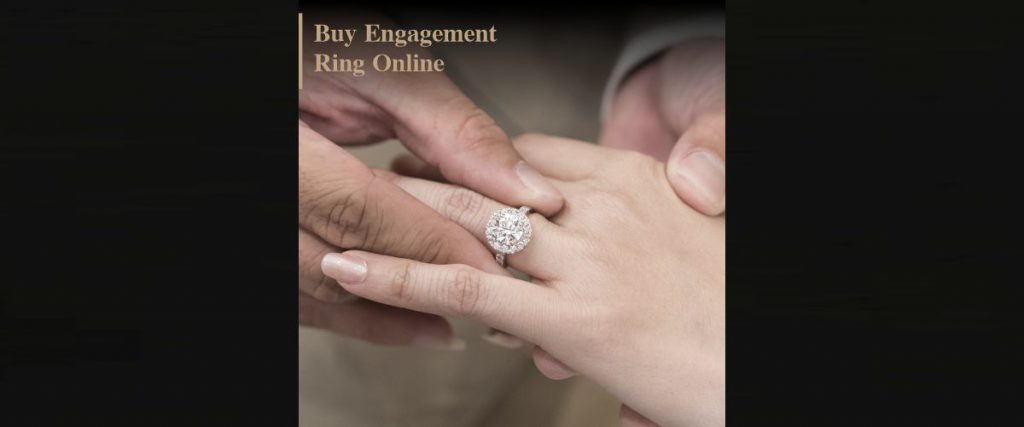 Looking to buy engagement ring online for women? This is something truly special and the most precious moment in everyone's life. A timeless engagement ring is a classic, vintage, and traditional ring that will never go out of style. It will always be fashionable and will enchant you as much as it did when you first saw it.
At V.Jayantilal & Co, we work alongside you to help to choose your ideal diamond shape and pair it with a suitable ring style to create a stunning piece of jewellery that celebrates your love.
To help you decide which is the right type for you, here's the list of some of the best engagement ring online for you to choose from.
Round Diamond Ring
Round diamond ring is one of the most classic choices for an engagement ring as they provide exceptional sparkle and fire. This cut is known to have the most brilliance and is thus the most attractive diamond for engagement ring shoppers. The intense sparkle of the round diamond hides inclusions very well, so you can confidently buy a lower clarity to balance your budget.
Oval cut diamond ring
The Oval shape diamond ring has gained popularity in recent years because of its elegance and fire. This shape of diamond is seen to appear larger than the round brilliant diamond of the same weight. This is a great choice if you are looking for a unique engagement ring design.
Emerald cut diamond ring
Emerald diamond ring are ideal for the minimalist. An emerald-cut diamond is cut with rectangular facets, which give it a unique appearance. This diamond is step-cut and has long, linear facets. We recommend a clarity grade of VS2 or higher for this diamond shape because the facets make it easier to see a diamond's inclusions. An emerald-cut diamond engagement ring is a go to choice with the stylish elite.
Pear cut diamond ring
For someone who wants to look unique and stand out from the crowd, a pear cut diamond ring is a great choice. A pear-shaped diamond is another popular diamond that tends to look larger than its carat weight due to its super-brightness and flattering elongated shape. It will always be a favourite among the many diamond cuts for the engagement ring because of its single point and rounded end. You can buy a pear shaped diamond engagement ring online from V. Jayantilal & Co.
Cushion cut diamond ring
Cushion-cut diamonds, also known as pillow-cut diamonds, are a timeless option that combine the round cut with the classic old-mine facet pattern. Each cushion is a square or slightly elongated square with rounded corners.The classic rounded corners of the cushion diamond create a soft appearance. Due to its brilliance and sparkle cushion diamond hides inclusions very well. The cushion diamond ring is a great choice as it gives a vintage look as well as a classic style.
Solitaire diamond ring
The solitaire ring is one of the most popular settings for engagement rings. Solitaire refers to a single stone set on a band. Many people choose solitaire rings because of their classic elegance, it suits their personality as well as to highlight the diamond. The round brilliant is the most popular stone shape for a solitaire ring. This timeless design focuses on the centre stone. This makes it a great design for any size. The stone will always stand out. The choice of stone is also versatile, depending on taste and budget. Cushion, princess, radiant, and pear-shaped diamond rings are also popular solitaire diamond ring styles.
Vintage diamond ring
Vintage engagement rings are a great option for those who like the taste of history and romance. This type of ring is designed to look like it came from a specific era hundreds of years ago. It features delicate metalwork and beautiful engraving; this style of ring is the perfect choice for someone who wants an engagement ring bursting with character and charm. For a bolder look, bezel set rings are a chic nod to the past that still impart a modern, streamlined look.
Halo setting ring
The halo setting ring has grown in popularity in the past year as this type of setting ring encircles a stone with a ring of diamonds. Halo-setting rings can be a great option for budget-conscious brides. This ring consists of a centre diamond that is surrounded by many smaller pavé diamonds. The small diamonds surrounding the centrepiece highlight it and make it appear more significant. It makes the centre stone appear up to a half-carat larger. This engagement ring is a combination of traditional and modern styles. A halo setting makes the perfect engagement ring online for her.
Three stone ring
The three-stone diamond engagement ring symbolises friendship, love, and fidelity. In this type of ring, a central stone is surrounded by two diamonds on either side. This ring style can be made or purchased in modern, antique, vintage, or even custom designed. Three-stone diamond ring gives a glimpse of the past, present, and future of your relationship. A princess-cut diamond is the most suitable option for this style as it forms a beautiful symmetry. This style is ideal for a woman with an old soul. This is also a particularly attractive design that can complement a hand well.
Side stone ring
Not every engagement ring with side stones is a three-stone ring. Particularly in vintage gemstone and custom ring designs, many rings have more than three side stones or use diamonds and gemstones as accents in settings that don't fit the traditional three-stone pattern.
Side stones are a fantastic way to add personality to a ring. A ring will sparkle and stand out more if it has additional stones, but be aware that this increases the risk that they will come loose, especially if you are very active and use your hands frequently at work or at home. When choosing a ring, your lifestyle can be just as important as your sense of fashion.
Eternity band
Eternity rings are a perfect choice to gift your loved ones on this special day, as they do not feature a centre stone at all. The striking beauty of the gem-encrusted bands has caught the eyes of couples around the world. The half-eternity engagement ring is the less expensive (and more popular) choice because the quantity of diamonds required for an eternity band results in a hefty price tag.
The future bride deserves the best ring she can get—and the ring she most desires. Whether you go for something traditional, modern, or eclectic, the best engagement ring is the one given and received with love.
V. Jayantilal & Co. will help you design and create your own dream engagement ring
online according to your requirements.