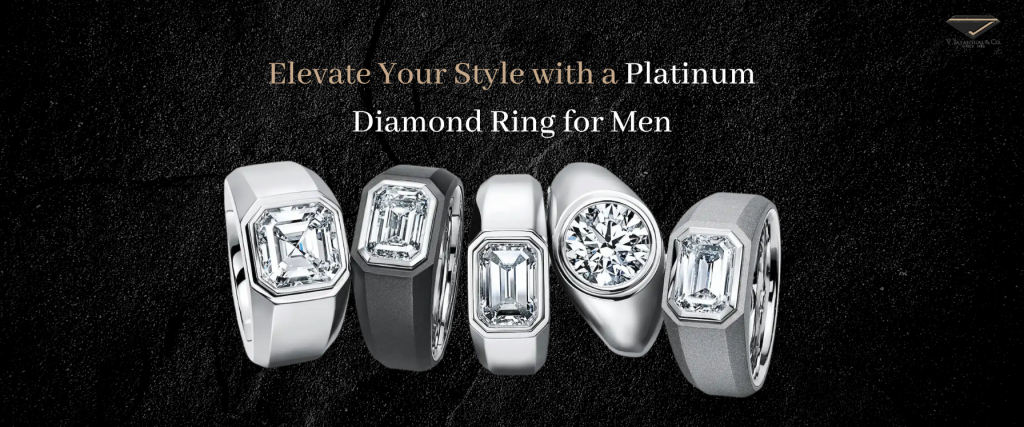 You've come to the right place if you're wondering which platinum diamond rings for men's wedding bands would suit your partner best. The best selection of men's platinum bands, platinum diamond rings, and platinum rings for couples can be found at V. Jayantilal.
One memento that people like to keep as a reminder of their wedding is a platinum men's ring. Because it constantly serves as a reminder that you are not alone in this harsh yet incredible world. There can therefore be no platonic wedding without a ring because the ring is a memory that palpably begins to influence your married life.
Why choose the platinum wedding ring
So why do prefer platinum diamond ring for men over others like gold and palladium?
Platinum is known for its inertness and doesn't efficiently react with other substances. It is one of the least reactive metals, making it a better option for wedding jewellery. Due to its anti-corrosion properties, platinum is shiny and durable. It can withstand extreme conditions as well. It is made to be luxurious and unaffected by extreme temperatures. So this is why platinum is called a noble metal; this is what makes it its customers' first preference. Platinum wedding bands, along with other accessories, can be an example of an excellent investment commodity.
The best men's wedding bands are made of platinum because they are dependable, strong, and resistant to damage. The ring you should be reluctant to take off is your wedding band. Platinum wedding bands provide you with a comfortable and opulent lifestyle. It is suitable for everyone.
Platinum rings
What makes a platinum man's ring so trendy? Platinum is more expensive than gold, but due to its durability, this investment can last a lifetime. Platinum doesn't tarnish, needs no polishing, or is prone to scratches like softer silver or gold. Select a platinum ring that complements your cutting-edge style and your active way of life.
The following are some popular trends Platinum Diamond Ring for Men :
Textured Platinum
The texture produces a distinctive design on Platinum Diamond ring for men ands for men. This lustrous metal's satiny sheen is roughed up by a brushed texture for a more rugged appearance. Additionally, hammered effects give men who want a little bit of toughness a touch of artisan edge.
Men can also choose rings that play with contrast, such as those with textured edges and a polished centre, or the opposite. A stipple finish or bead blasting adds dimpling for a rugged appearance, while rope and milgrain detailing along the edges draw the eye and command attention.
Diamonds and gemstones
White diamonds and coloured gemstones both shine brilliantly on platinum's smooth, cool-toned surface. The mirror-like finish of platinum makes black diamonds or richly coloured gems like sapphires, rubies, and emeralds stand out. For a regal ring, cover the band in diamonds and gemstones. Alternatively, use the gems as tiny accents to add glitz without creating a fuss.
Inlay Details
The possibilities are endless; you can combine any material with platinum's neutral appearance to create a focal point by adding inlays. Inlays made of dinosaur bone or meteorites give this elegant metal a unique and rugged beauty, while colourful inlays made of opal or shell add visual interest. Want to use platinum to create a casual look? A wood inlay will add a hint of rustic influence. For added contrast, many men decide to combine platinum with inlays of other metals, like yellow gold. Make sure to look through our entire selection of men's wedding rings for additional inspiration.
Classic Tradition
The best way to combine aesthetics and make a statement is with a classically designed men's wedding band made of an unconventional metal. A clean, highly polished men's ring without any decorations is elegant and timeless, and platinum's cool tones provide the ultra-modern look you want. For minimalists and men who find tradition romantic, this styling is ideal.
Reason to buy Platinum diamond ring for men
Platinum is Durable
Platinum is strong and can withstand adverse external environmental conditions like extreme heat and cold due to its durability. Because it is sturdy, it will last for many years. It is more well-liked by people because of its strength and durability. For platinum rings for men, diamonds are frequently preferred. Due to its inherent white colour, platinum always has an alluring natural appearance. Due to its greater density than other metals, platinum makes a secure container for diamonds and other precious stones.
A platinum ring will stay the same colour forever
Platinum is a naturally white metal and doesn't need any maintenance to stay that color. The color has remained unchanged for many years, unlike its close competitor. Its attractive patina finish keeps it looking new all the time. White gold, which attempts to resemble platinum in appearance, begins to tarnish with time. With platinum, you never have to worry about routine maintenance because it keeps its colour. Platinum would never tarnish or lose its colour. Its unchanged colour will help the ring to look the same for years by allowing it to pass down through generations.
You can pass it down for generations
All precious metals, including platinum, eventually develop wear. However, due to its resilience and superior wearability, platinum is one of the most resilient precious metals you can select for a ring.
When platinum is scratched, very little metal is lost; instead, the metal is merely displaced. However, when gold is scratched, tiny pieces of metal are lost, causing faster metal loss. Over time, platinum will keep its volume and develop a warm patina that gives the ring personality. The metal's displacement causes the ring to become harder. The surface of the ring eventually records a lifetime's worth of wear and memories, making it the ideal heirloom to give to loved ones. Platinum will maintain its beauty as it gets older with the right cleaning and/or polishing.
It'll prevent your diamond from looking yellow
Platinum is a naturally white metal. You never have to worry about any unwanted colour reflecting into the diamond because of its flawless white colour, which won't fade over time. A diamond will reflect yellowish tones from white gold that ages and from yellow gold in general. Instead, platinum's naturally white colour brings out the diamond's brilliance.
Platinum creates the safest setting for diamonds
Platinum provides the safest setting for a diamond because it is denser. The prongs holding your diamonds in place on a platinum ring are much more substantial than those on a white- or yellow gold ring. Gold is brittle than platinum, so there are greater chances that gold prongs will break after repeated force. Thus, you won't have to worry about losing the diamond from the ring.Moreover, since the platinum ring perfectly matches a diamond, you have less to worry about losing the diamond thanks to the secure setting.
Why Choose us for your platinum ring
These days, platinum wedding bands are fairly common.
Urban dwellers favour platinum over any other metallic material for accessories. People want the best, especially when planning a wedding because it is the one day that truly matters to them. And we at V. Jayantilal are committed to giving you the best service possible.
We are well aware of the challenges that couples encounter when making wedding accessory selections. Prioritizing our customers' requirements for their wedding bands is our goal. We work with them to make their wedding day the most memorable and exciting day of their lives. There are platinum rings available for both men and women. These were made with the wedding couple in mind, as well.
Platinum wedding bands represent the opulent lifestyle you want to have with your partner. These are unique, viable, and brittle all at once. Everybody deserves to have a platinum ring on their finger, regardless of their gender, race, class, or affiliation with a particular group within society. It stands for devotion, respect, and love.